- APPLICATION
- ROSTER / BIOS
- GENOCIDE PROMOS
- PPV PROMOS
- BEHIND THE SCENES
- CHAMPIONSHIPS
- TITLE HISTORIES
- SUPERSTAR RANKINGS
FCW ANNOUNCES THE FOLLOWING SUPERSTAR SIGNINGS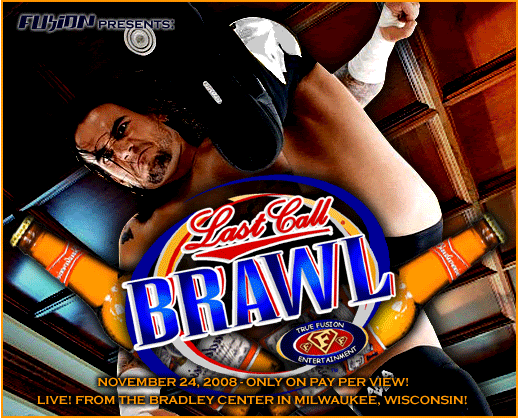 FUSION LEGENDS MAKE A SURPRISE SHOWING IN THE GENOCIDE MAIN EVENT
Shocking the world, "All Natural" Nick Kelly and Blackwolf Kash teamed for one night only to take down the FCW Champion Eddie Stitchard and Euro-Continental Champion Jake E. Dangerously.
On November 24, 2008, FCW makes it's way to the Bradley Center in Milwaukee, Wisconsin for its longest running Pay Per View annual Last Call Brawl.
The Main Event will be for the World Heavyweight Championship as Champion Eddie Stitchard defends against Jake E. Dangerously and possibly even a third man in the form of Dusk Brynger
This is history in the making folks. Order now. This is one Pay Per View you just can't afford to miss! Make your plans today!
THIS WEEK ON FCW TELEVISION
LIVE from Madison Square Garden, NYC, NY
GENOCIDE

.::Main Event::..
Non-Title
Eddie Stitchard vs Dusk Brynger
If Dusk wins, he gets into the Main Event at Last Call Brawl
Special Referee - Wayne Staunton

EuroContinental Title
Jake E. Dangerously vs Derekk Redmond

Non-Title
Dream's Team (Gold & Crowley) vs Fat & Furious (c)

Xtreme Title
Mark Jenkins (c) vs Michael Chasm

Eric Michaels vs Max Doom

Roman Bane vs Zeven Zion

Jackson Payne vs Captain Jonathan Wales

Big Hype vs Trevor Jones

PLUS!
Blackwolf Kash in the Arena

.::Card Subject to Change::.

THE LATEST FCW NEWS STORIES
A LEGEND RETURNS
The FCW has been placed on notice. Former FCW Euro-Continental Champion Jayson Maxim has returned to the FCW attacked Michael Chasm for some undetermined reasons.
FCW ANNOUNCES THAT ALL TITLES ARE ON THE LINE AT PPV
In what can only be referred to as the most eagerly anticipated PPV in ages, CEO Greg Anthony has announced that all the championship will be decided in the confides of Street Fight ruled matches.
FCW REACH CONTRACT AGREEMENTs WITH THE MAX DOOM AND ROMAN BANE
In another showing of amazing judging of talent, CEO Greg Anthony inked MAX DOOM and ROMAN BANE to be the newest member of the FCW roster.